Corporate venture capital saw the biggest percentage declines in deals and dollars in over a decade — though investment activity still remained elevated compared to historic levels.
In Q2'22, global funding with CVC participation fell 32% quarter-over-quarter to $26.6B, while CVC deals dropped 18% to 1,148 — the largest percentage declines seen in over a decade. Despite the market downturn, CVCs are still investing at levels higher than any quarter prior to 2021.
Below, check out a few highlights from our 163-page, data-driven State of CVC Q2'22 Report. For deeper insights, all the record figures, and a ton of private market data, download the full report.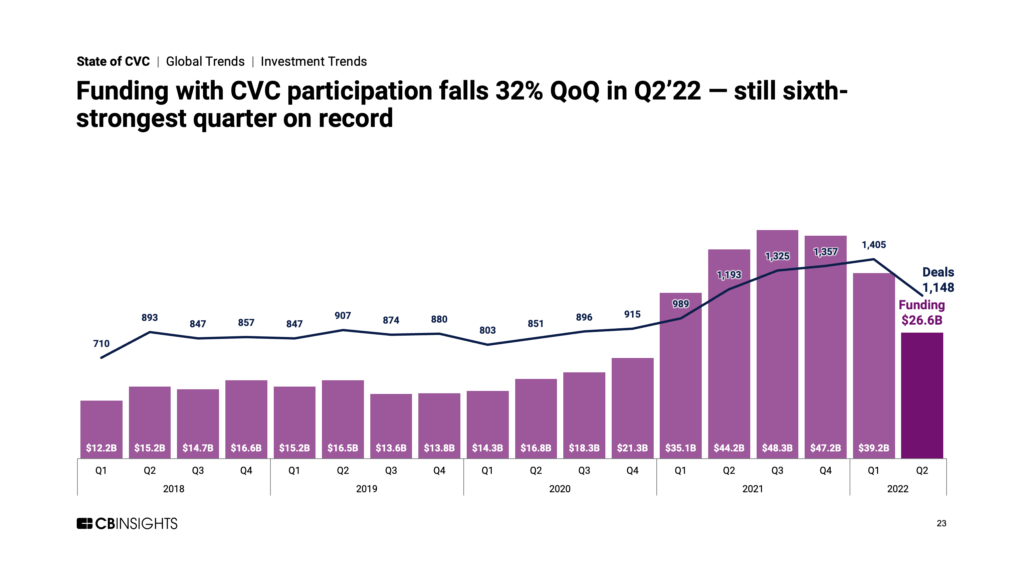 Q2'22 highlights across the corporate venture ecosystem include:
The quarter's 76 mega-rounds (deals worth $100M+) accounted for just 7% of all CVC deals — down from 10% in Q4'21 — as CVCs pull back from massive, late-stage deals.

So far in 2022, 60% of CVC deals are early-stage — a 5-year high if the trend holds. Q2's top early-stage deals went to renewable energy startup

1Komma5

and biotech firm

Upstream Bio

.

Five of the top 9 CVCs are now based in Japan, up from 2 in Q1'22. Mitsubishi UFJ Capital was the country's most active CVC in Q2'22.

Digital health funding with CVC participation fell a whopping 56% QoQ to $1.7B.

US funding dropped to $12.2B, after 5 straight quarters of $20B+.

Coinbase Ventures and Google Ventures were the most active CVCs in Q2'22, although both slowed dealmaking compared to Q1'22.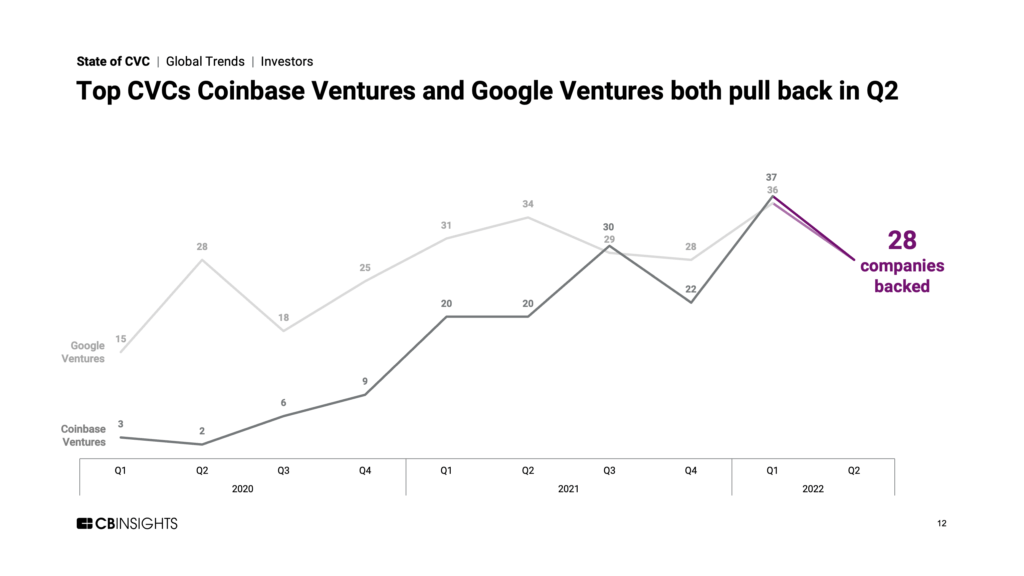 Download our Q2'22 State of CVC Report to learn about all these trends and more.
If you aren't already a client, sign up for a free trial to learn more about our platform.