Corporate venture capital activity continues to slow down, with CVC-backed deals and funding falling in Q3'22 by the largest margins in a decade.
CVC-backed funding and deals fell by 34% (to $18.6B) and 14% (to 1,098 deals), respectively, which topped the significant losses seen in Q2'22 (-29% in funding and -12% in deals).
Corporate venture arms invested in just 44 $100M+ mega-rounds in Q3'22, down 45% QoQ — the lowest level since Q2'20.
CVCs are increasingly shifting their efforts toward early-stage deals, which are pacing at 61% share of total deals this year — the highest level in a decade if the trend holds through the fourth quarter.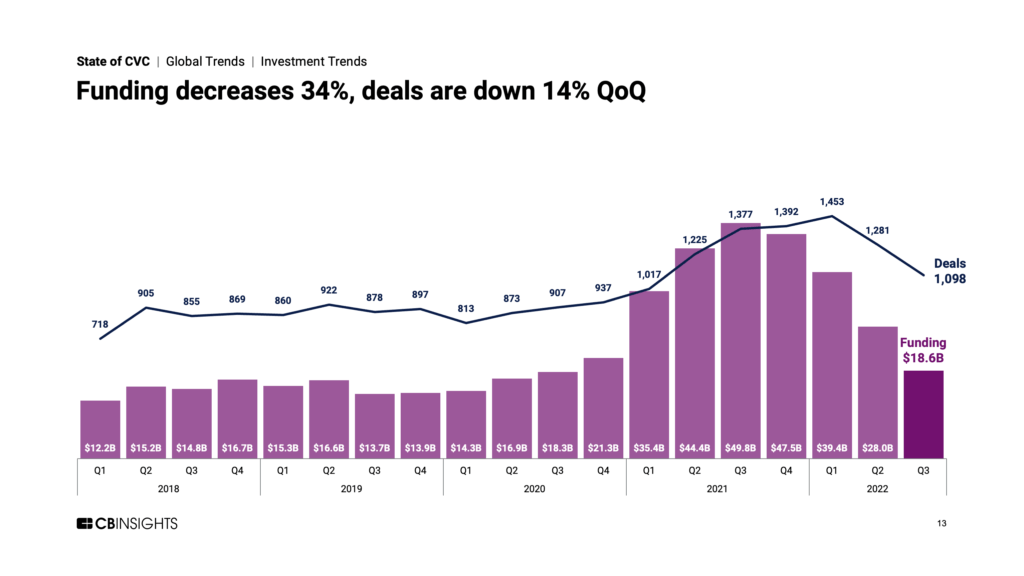 Other Q3'22 highlights across the corporate venture capital market include:
Coinbase Ventures was the most active CVC in Q3'22, backing 26 companies, while Google Ventures (previously tied in first) slipped to 7th, investing in only 13 companies.
CVC investment in fintech continued to slide QoQ, with declines in funding (-54%) and deals (-9%).
CVC-backed funding to India-based startups bottomed out this quarter, falling to $281M after 5 straight $1B+ quarters.
CVC deals to digital health startups fell 30% QoQ, marking a fourth straight quarter of decline. Funding slipped 18% to $1.4B.
Attracting 45% of all deals, Asia led CVC deal share for the sixth straight quarter. The US remained at a recent low of 30% share for the second quarter in a row.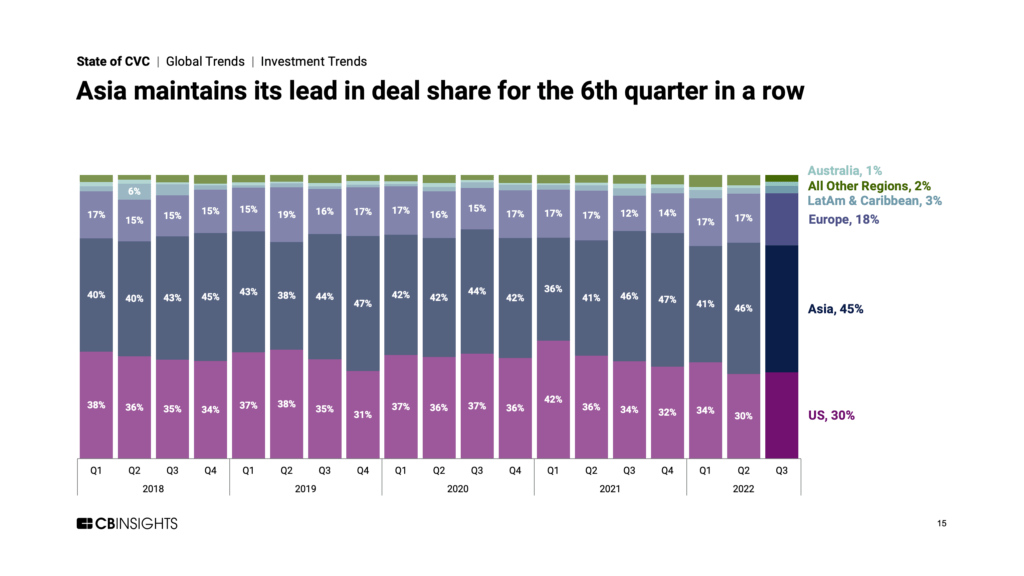 Download our Q3'22 State of CVC to learn about all these trends and more.
If you aren't already a client, sign up for a free trial to learn more about our platform.