Companies like Google, Microsoft, and Airbus are making significant investments in quantum computing, a technology which could change everything from AI to logistics to aircraft design. We look at 20 corporates developing the tech and what they hope to achieve.
Quantum computers powerful enough to solve practical problems beyond the capabilities of classic computers are edging closer to becoming a reality.
GET the 27-page quantum computing report
Download the free report to learn about the the quantum computing industry landscape and how close we are to quantum supremacy.
A quantum computer uses quantum mechanical states to define "qubits" — which can represent both a 1 and 0 simultaneously — to quickly solve complex computations involving lots of possible variables, like cracking encryption keys, predicting stock-market fluctuations, or optimizing an aircraft route to minimize fuel consumption.
Advances are coming quickly. Microsoft, for instance, designed a special programming language for quantum computers, called Q#, and released a "Quantum Development Kit" to help programmers create new applications. One of Google's quantum computing projects involves working with NASA to apply the tech's optimization abilities to space travel.
This rate of advancement has also led to some fears. For instance, quantum computers' potential to crack traditional encryption methods has added impetus to the race to develop another quantum-based technology — quantum cryptography — which could form the basis of quantum communication networks which can't be hacked without the sender knowing. A number of corporations, with a few highlighted below, are working to create these networks as they prepare for a quantum computing world.
We identified a selection of 20 corporations involved in the development of commercialized quantum computing hardware and software, as well as a number of corporations working on quantum cryptography and communication.
Learn more about how quantum computers work by checking out our explainer.
This list is organized alphabetically.
GET the 27-page quantum computing report
Download the free report to learn about the the quantum computing industry landscape and how close we are to quantum supremacy.
1. Airbus is looking to quantum computers to change aerospace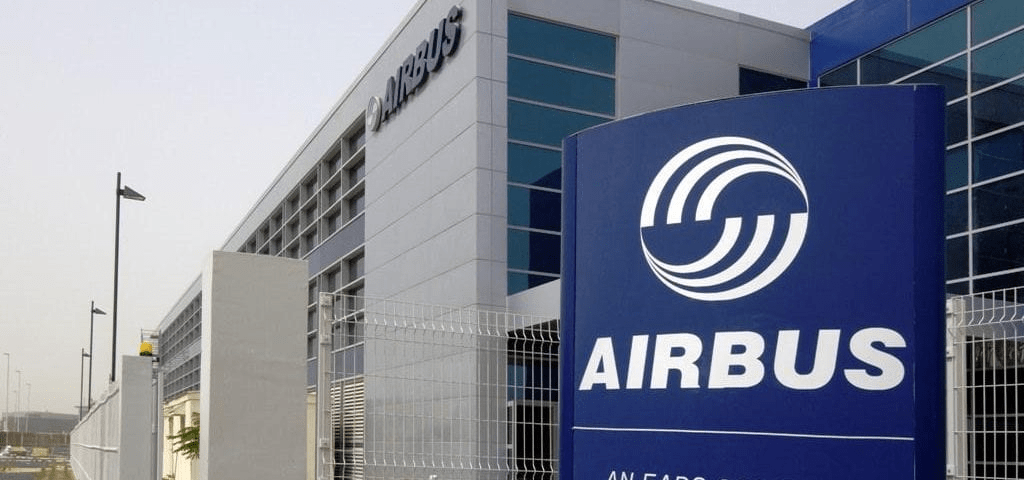 Airbus Group established a team to tackle quantum computing at the end of 2015 at its site in Newport, Wales. Airbus' Defence and Space unit's main objective is to study a range of technologies related to quantum mechanics, from cryptography to computation.
Airbus is not planning to develop its own quantum computing hardware, but instead wants to adapt existing quantum machines to specific problems within the aerospace industry, namely those requiring the handling and storage of large amounts of data, including sorting and analyzing images streamed by satellites, or creating novel, ultra-durable materials for aircraft.
In 2016, Airbus' VC arm Airbus Ventures invested in a seed round for quantum computing startup QC Ware, which is building a quantum computing cloud platform — in 2018, it invested again in the company's Series A.
In January 2019, Airbus launched a contest for quantum computing-driven solutions to various aircraft design and operation problems — issues of interest include wingbox design optimization, computational fluid dynamics, and making aircraft climb routes more fuel efficient.
---
2. Alibaba has a lab dedicated to quantum computing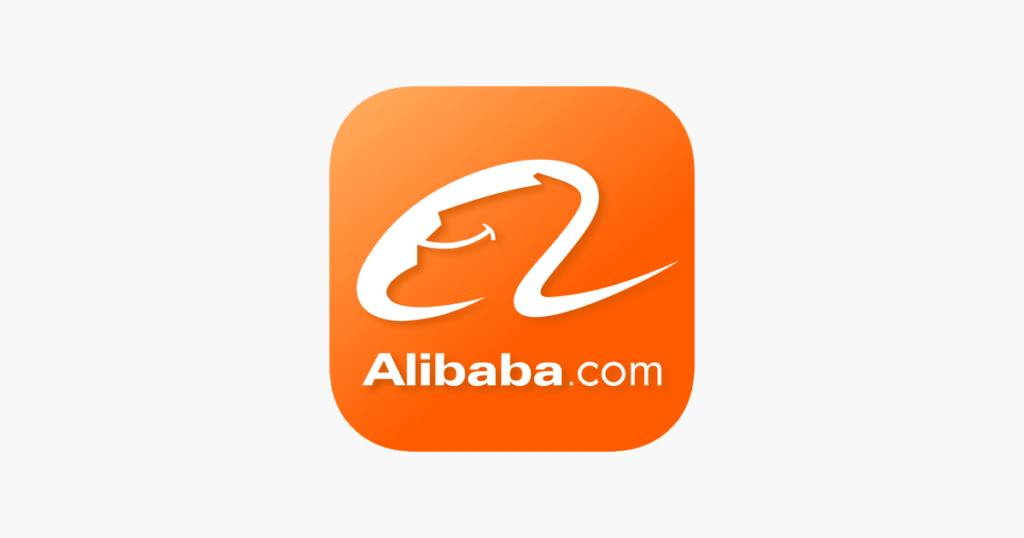 In July 2015, Alibaba's Aliyun cloud unit and the Chinese Academy of Sciences established a research facility based in Shanghai called the Alibaba Quantum Computing Laboratory. The lab looks into quantum computing applications across various fields, including artificial intelligence and security for e-commerce and data centers.
In February 2018, Alibaba Cloud launched a cloud quantum computing service that had 11 qubits.
---
3. AT&T wants to build a quantum communications network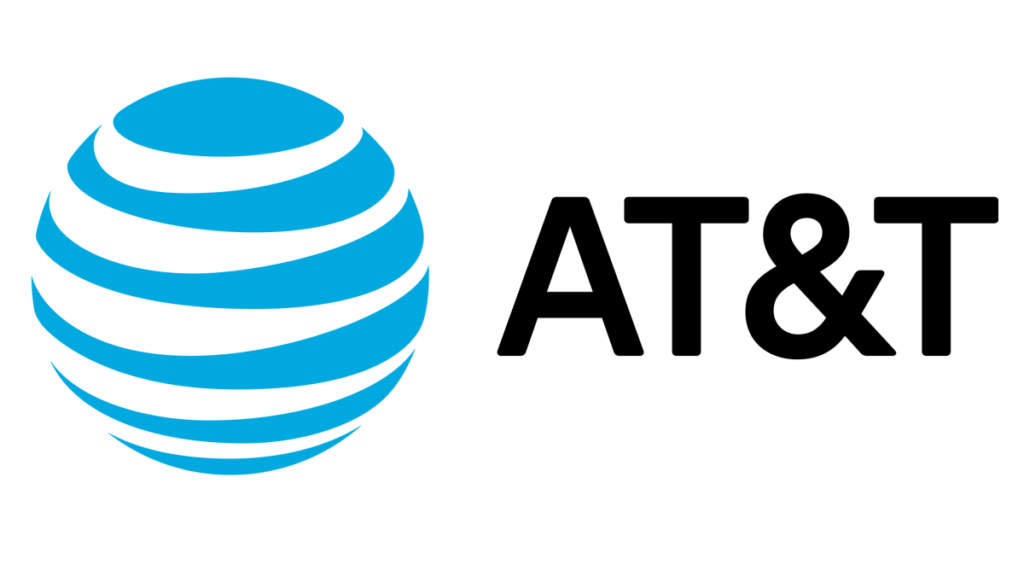 In May 2017, AT&T announced that it was working with the California Institute of Technology to build out its quantum networking technology — which could help it offer more secure communications.
In late 2017, the two partners — alongside NASA's Jet Propulsion Laboratory and the US Department of Energy — started constructing a quantum network hosted at Fermilab in Batavia, Illinois.
---
4. Baidu wants to catch up to its biggest rival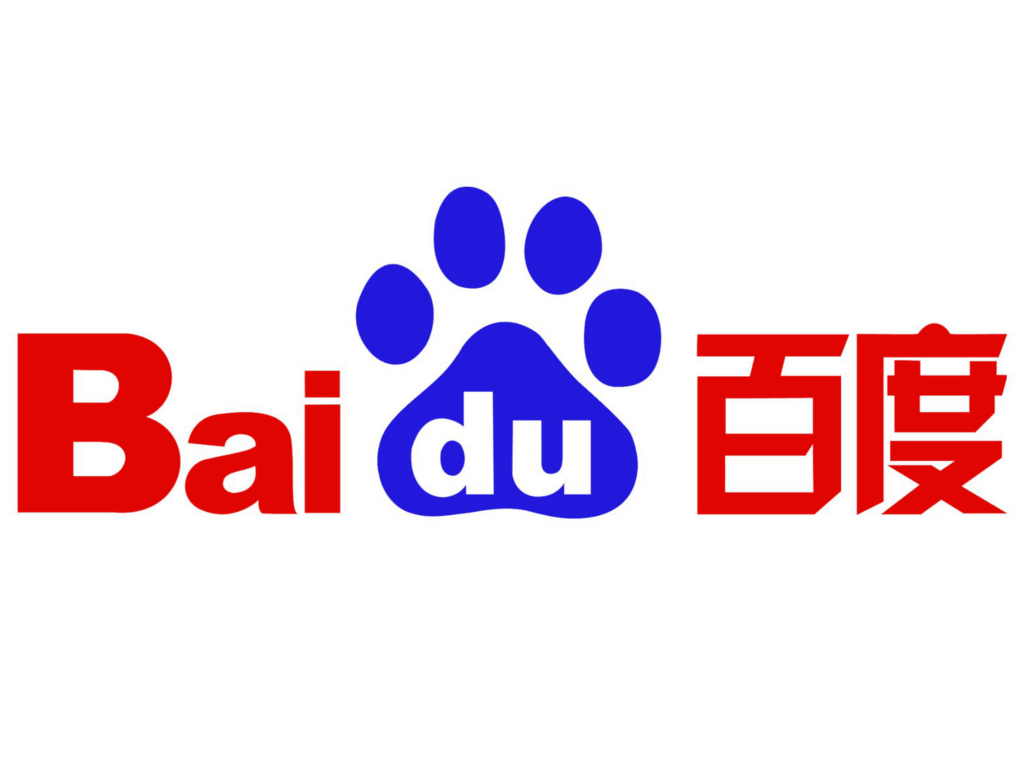 Baidu announced the formation of its Institute of Quantum Computing in March 2018, an initiative which focuses on quantum information theory and quantum computation. Baidu's search engine, the most popular in China, could benefit from quantum computings' potential to help search through vast databases.
Baidu has lagged behind its domestic competitor Alibaba, which already unveiled a 11 qubit quantum cloud computing service.
---
5. Booz Allen Hamilton is seeking to offer quantum computing to clients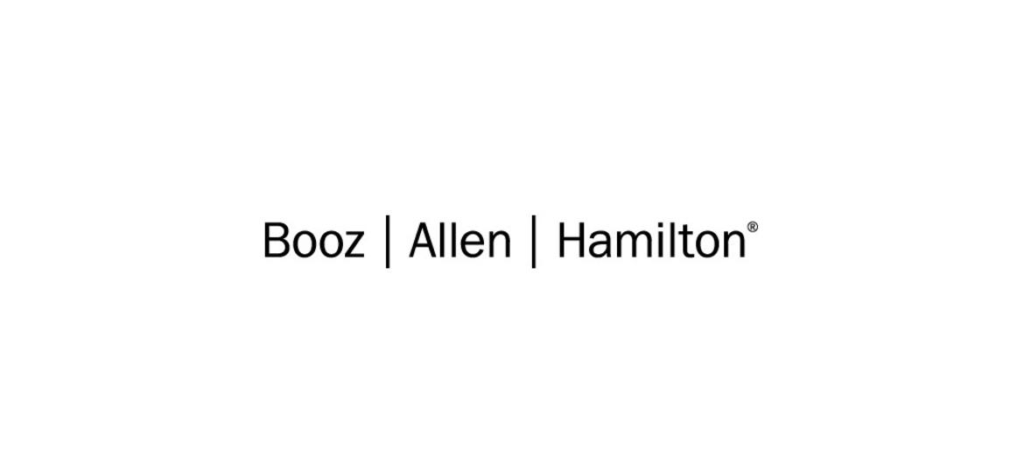 Booz Allen Hamilton is looking to use quantum computing to find an edge in the race for better data-science products and services.
The management consulting firm says it has partnered with government and business clients to develop pilot progams and quantum computer prototypes for solving optimization problems
Areas of interest for Booz Allen Hamilton include, among others, logistics, drug discovery, and validation of complex code in software.
In September 2018, Booz Allen Hamilton received a contract from the US Air Force Research Laboratory. As part of this project, together with quantum computing company D-Wave Systems, Booz Allen is researching ways to use quantum computing to address the problem of optimizing the grouping of satellites in order to maximize their coverage area.
---
6. British Telecommunications (BT) is using quantum properties to protect sensitive information
BT, alongside Toshiba Research, ADVA Optical Networking, and the UK National Physical Laboratory, are collaborating to research and implement quantum encryption. This technology uses quantum entangled photons — particles of light — to protect sensitive data as it is being transmitted, the idea being that someone could not intercept the transmission without altering its quantum state and hence revealing that it was compromised.
In 2018, BT began making public progress towards using quantum mechanics to improve the security of communications — partly driven by the potential of quantum computers to upend traditional encryption methods. In June 2018, BT announced that it had built a "quantum-secured" internet network that spanned between Cambridge, UK and BT's laboratory in Ipswich, a distance of around 50 miles.
---
7. Google wants to use quantum computers to develop artificial intelligence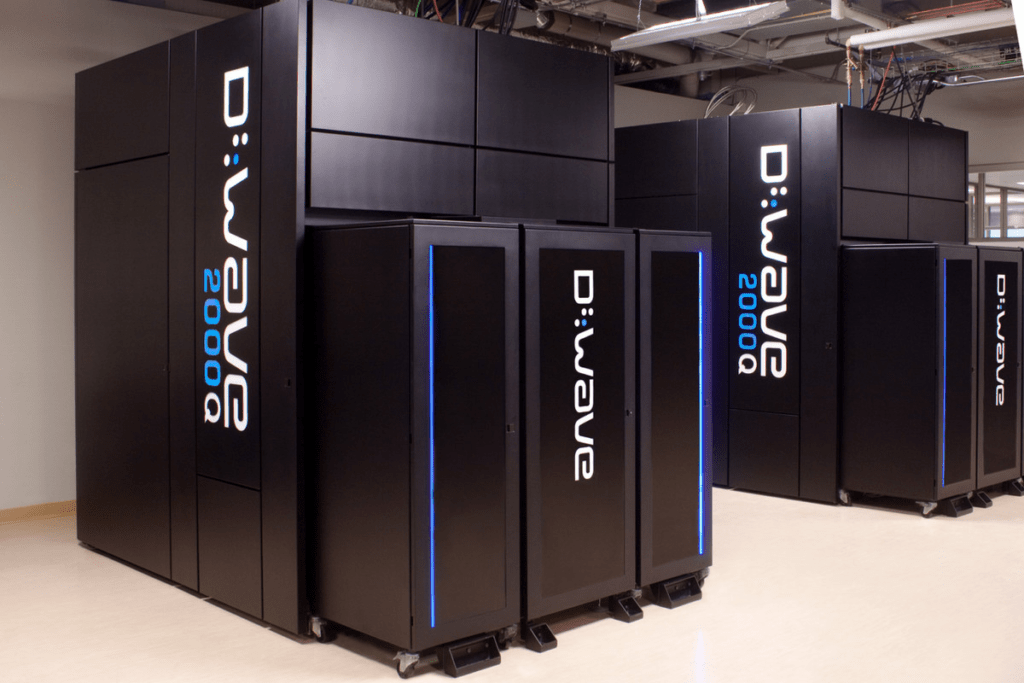 Google operates a D-Wave quantum computer in the Quantum Artificial Intelligence lab (QuAIL). The lab is hosted by NASA and the Universities Space Research Association at the NASA Ames Research Center in Mountain View, California.
In 2015, Hartmut Neven, who leads Google's QuAIL operations, and his team recently published a paper with initial test results that indicated the D-Wave machine could perform certain computations 100M times faster than a classical computer chip.
Since as early as 2013, this consortium has been utilizing D-Wave's machines to explore quantum computing applications in areas as diverse as web search, speech/image pattern recognition, planning and scheduling, air-traffic management, robotics missions to other planets, and support operations in mission control centers.
In 2014, in an effort to reduce the chasm between machine learning and human intelligence — and to take a lead in the nascent field of artificial intelligence — Google began leveraging its experience with D-Wave's machines and focusing on developing its own quantum hardware.
In 2018, Google announced it had built a new quantum processor, codenamed Bristlecone. The 72 qubit device was a significant improvement on Google's previous best of 9 qubits, with the closest contender at the time being IBM's experimental 50 qubit machine. Later in 2018, Google announced a partnership with NASA to explore problems that could be solved using the new quantum processor.
In early 2019, Google presented a circuit custom-made for quantum computing at the IEEE International Solid-State Circuits Conference in San Francisco. The circuit is designed to operate within a cryogenic enclosure cooled down to a temperature of less than 1 degree kelvin — a crucial infrastructure step for scaling up quantum computer systems in the future.
---
8. Honeywell is pushing for quick commercialization of its trapped ion quantum technology

Honeywell's work on quantum computing began in 2014 when the company participated in an Intelligence Advanced Research Projects Activity (IARPA) project investigating the technology.
Honeywell's main focus is a kind of quantum technology known as a trapped ion quantum computer — an approach to quantum computing that relies on suspending ions in space using electromagnetic fields, and transmitting information through the movement of those ions in a "shared trap."
In May 2019, Honeywell's CEO Darius Adamczyk — a former computer engineer who has taken personal responsibility over the company's quantum computing project — announced that the firm's technology had demonstrated "record-breaking high fidelity quantum operations," and expected the project to begin generating revenue by the end of the year.
Honeywell is one of the few corporations working on trapped ion technology, with the vast majority — including IBM, Google, and Intel — all using semiconductor technology to build their own quantum computing hardware.
---
9. IBM eyes commercial quantum computers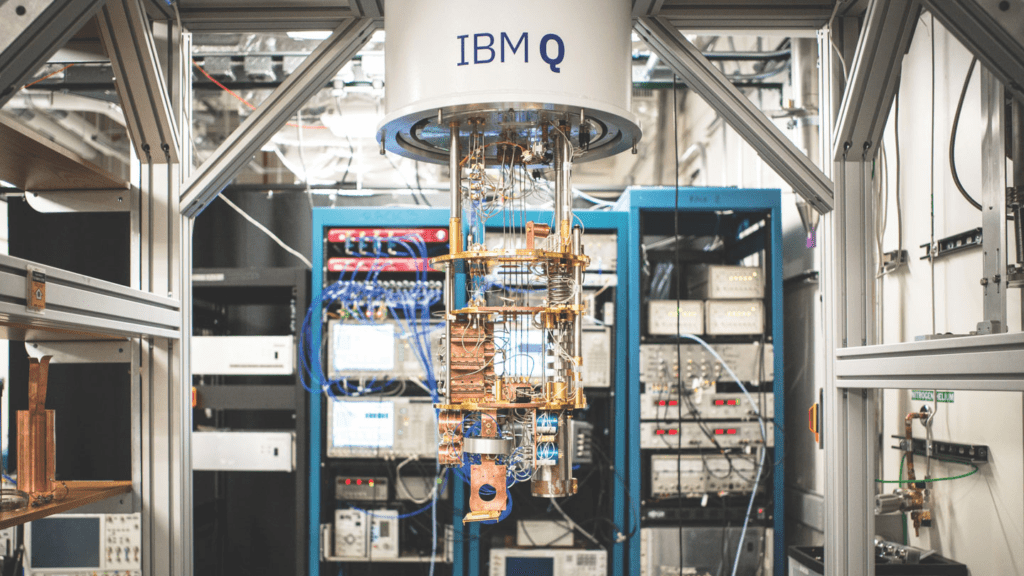 IBM has a quantum computing group at its Yorktown Heights, New York, research center. In April 2015, it announced a new kind of circuit that can detect both bit-flip and phase-flip errors together — a potentially important step for overcoming the challenges of correcting quantum errors that can plague quantum computing systems. Later that year, IBM was awarded an iARPA grant to use this technology under the Logical Qubits program. The aim of the program is to overcome certain limitations of quantum systems by building a quantum circuit design that can scale to larger dimensions.
IBM unveiled a 20 qubit quantum computing system, called "IBM Q System One," in early 2019 which would be accessible to users through the cloud — announcing both ExxonMobil and CERN as customers for its quantum computing service. Their stated areas of focus at the time were using "IBM Q" to study financial data, logistics, and risk.
In June 2019, IBM announced a partnership with a number of African universities. As part of the collaboration, IBM expects that researchers will use IBM Q's processing power to study topics such as drug research and development, mining, and the management of natural resources.
IBM Global Vice President Norishige Morimoto recently said that IBM would have quantum computers commercialized within five years.
---
10. Intel looks for better ways to mass produce quantum computers
In September 2015, Intel committed $50M to QuTech, the quantum research institute of the Delft University of Technology, and the Dutch Organisation of Applied Research, to provide engineering support over a ten-year collaboration.
At CES in 2018, Intel announced that it had constructed a 49 qubit superconducting chip called Tangle Lake. A big step up from Intel's previous chips, which came in at 7 and 17 qubits respectively.
In March 2019, Intel announced a testing tool for quantum computers which allows researchers to validate quantum wafers and check that qubits are working correctly before they're constructed into a full quantum processor. This could be an important cost- and time-saving technique for researchers on quantum computing, as well as a step towards the high-volume production of quantum processors.
GET the 27-page quantum computing report
Download the free report to learn about the the quantum computing industry landscape and how close we are to quantum supremacy.
---
11. KPN wants to create more secure telecommunications
KPN is a Dutch landline and mobile telecommunications company that has implemented end-to-end quantum key distribution (QKD), a technology which could lead to more secure transmissions, in its network between KPN data centers in The Hague and Rotterdam. KPN is collaborating with ID Quantique, a Swiss company specialized in quantum encryption.
---
12. Lockheed Martin doubles down after early quantum computing moves

In partnership with the University of Southern California, Lockheed Martin co-founded the USC-Lockheed Martin Quantum Computation Center (QCC). The center is focused on harnessing the power of adiabatic quantum computing, in which problems are encoded into the lowest energy ("coldest") state of a physical quantum system to find the optimum answer to a specific problem with many variables.
This optimization approach could help Lockheed Martin with a range of challenges, such as improving aircraft design or manufacturing logistics.
Additionally, D-Wave Systems Inc. announced in 2015 a multi-year agreement with Lockheed Martin to upgrade the company's 512-qubit D-Wave Two quantum computer to the new D-Wave 2X system with 1,000+ qubits. This represents the second system upgrade since Lockheed Martin became D-Wave's first customer in 2011.
---
13. Microsoft wants to equip quantum programmers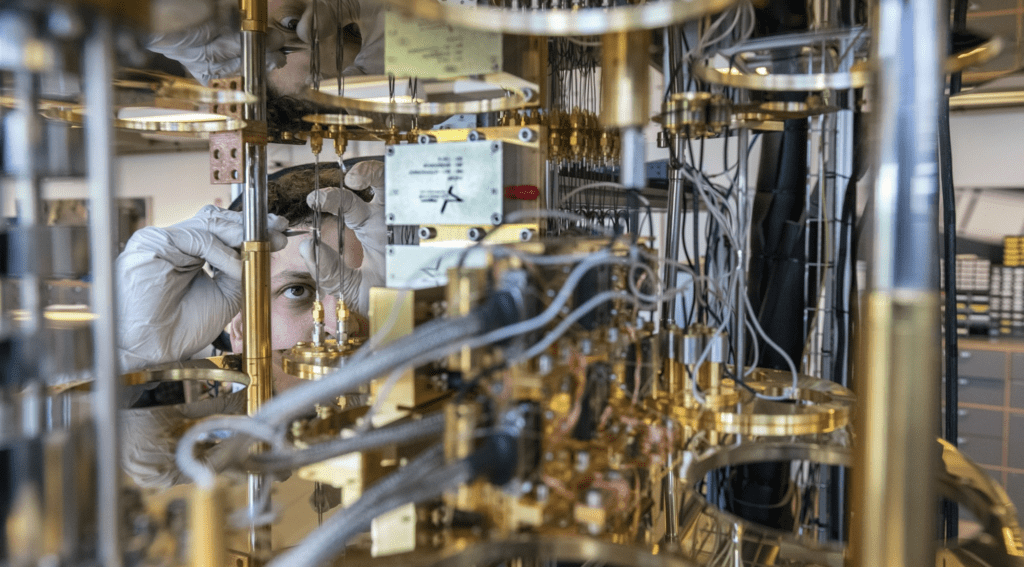 Microsoft's QuArC group, which was established in December 2011, is focused on designing software architectures and algorithms for use on a scalable, fault-tolerant quantum computer. Notable achievements for the group include LIQUi|>, a software architecture and tool-suite for quantum computing. Microsoft's QuArC group collaborates closely with universities around the world, including quantum computing groups at University of Sydney, Purdue University, ETH Zurich, and the University of California Santa Barbara (UCSB), among others.
In 2014, Microsoft revealed it was researching topological quantum computing — which aims to improve upon controlled engineering of quantum states — within a group called Station Q, located on the UCSB campus. Underscoring the software and algorithmic work of the QuArC group, Station Q aims to help create a scalable, fault-tolerant, universal quantum computer.
Microsoft has also made strides towards building out the development layer of quantum computing. At the end of 2017, Microsoft announced the Quantum Development Kit — a programming framework and language called Q# for developers looking to write applications for quantum computers. In February 2019, Microsoft launched the Microsoft Quantum Network — a network of institutions and individuals working on quantum applications and hardware.
In May, Microsoft said that its Quantum Development Kit had been downloaded 100,000 times and that it would open-source its Q# language, compiler, and quantum simulator.
---
14. Mitsubishi Electric makes moves to secure mobile communications

Mitsubishi Electric claims it has developed the world's first "one-time pad software," an advanced encryption technique for mobile phones that aims to ensure that telephone conversations remain confidential.
Additionally, the company is involved in implementing its technology in a project being conducted by the National Institute of Information and Communications Technology to test the viability of mobile communications over a quantum secure network.
---
15. NEC and Fujitsu look to offer long-distance quantum communications
In September 2015, the Institute for Nano Quantum Information Electronics at the University of Tokyo, in collaboration with Fujitsu Laboratories Ltd., and NEC Corporation, announced that they achieved quantum key distribution for securing communications at a distance of 120 kilometers using a system with a single-photon emitter.
In January 2018, NEC announced a plan to invest develop its own quantum computing technology for answering optimization questions. Fujitsu, another Japanese giant, announced partnerships with the University of Toronto to invest $451 million in quantum computing by 2020, and with Vancouver's 1QB Information Technologies — a company Fujitsu has invested in.
---
16. Nokia owns a quantum computing pioneer
Nokia is the parent company of Bell Laboratories — a pioneer in the development of quantum computing algorithms. Several researchers at Bell Labs have served as pioneers in quantum computing, including Peter Shor (of Shor's Algorithm) and Luv Grover (Grover's Algorithm). The nascent field of quantum computing was given a boost by Shor's discovery, in 1994, that quantum computers would be able to find the prime factors of large numbers far faster than conventional computers — a property which could soon undermine traditional encryption methods, which rely on hard to calculate prime factors.
Today, Nokia is involved in a project at Oxford University alongside Lockheed Martin to explore the potential for quantum technology to enhance optimization and machine learning.
In 2017, a Morgan Stanley report counted Bell Labs' quantum computing program alongside those of IBM, Google, and Microsoft as the "most credible."
---
17. NTT focuses on optimization applications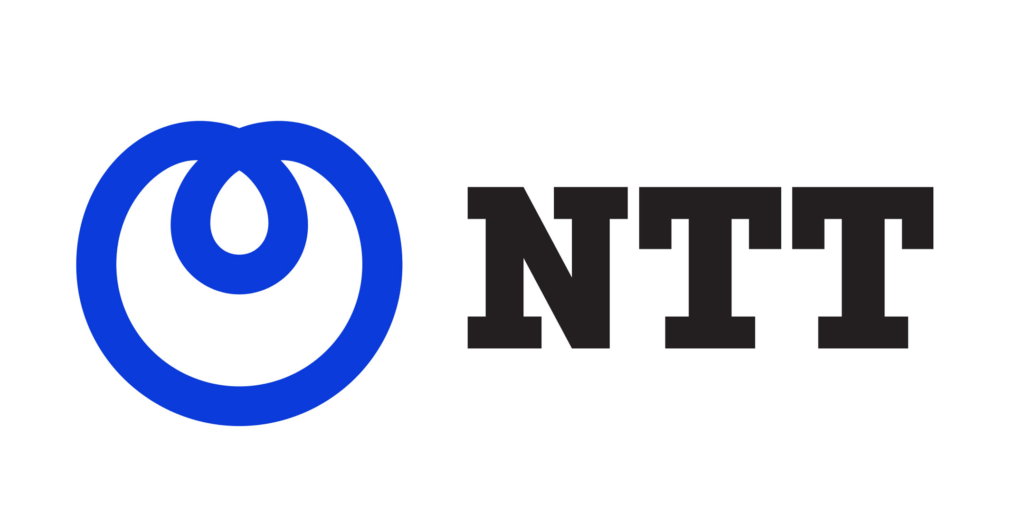 NTT Basic Research Laboratories and NTT Secure Platform Laboratories have collaborated to explore ultra-cold atoms and quantum information processing. In 2014, the company and researchers from the University of Bristol in the UK developed an optical chip that uses photons to test new theories in quantum computing, with a goal of reducing the resources previously required to test quantum theory.
In 2017, the company opened up its prototype quantum computer for public testing. The NTT's quantum computer differs from those of most other corporations working on quantum computing in that it's a "quantum Ising" machine — which is designed specifically to tackle optimization problems.
In late 2018, NTT announced a plan to open a quantum computing research center in Silicon Valley, with the aim being to promote research on quantum computing theory and collaborate with other local researchers.
---
18. Raytheon applies quantum computing to imaging

Raytheon established a quantum information processing group within its Raytheon BBN Technologies R&D center that focuses on exploiting quantum phenomena for sensing, computing, and imaging.
In 2012, Raytheon BBN Technologies was awarded $2.2M in funding under the quantum computer science program, sponsored by Intelligence Advanced Research Projects Activity (IARPA), with the goal of integrating aspects of a quantum computer into a single framework for better managing resources and assessing performance.
In 2017, a team at Raytheon BBN, in collaboration with IBM Research, published a study in Nature Quantum Information in 2017 that demonstrated quantum computing's ability to discover the answers to a certain class of problems faster and more efficiently than a conventional computing device.
---
19. SK Telecom is building a quantum communications network in South Korea
In March 2016, SK Telecom announced that it completed the rollout of five different national test networks for quantum communications that covered a total distance of 256 kilometers.
In early 2018, SK Telecom invested $65M to take a reportedly greater than 50% ownership stake in ID Quantique, a developer of quantum key distribution systems and other quantum-influenced technologies. In September, SK Telecom announced that a partnership between them, ID Quantique, and Nokia had successfully developed interoperation between IDQ's QKD and Nokia's optical transport system.
---
20. Toshiba goes after secure communications networks

Toshiba's quantum key distribution (QKD) system delivers digital keys for cryptographic applications on fiber-optic-based computer networks.
Notably, the company announced in 2015 that genome data from Toshiba's Life Science Analysis Centre was slated to be encrypted by a quantum communication system and transmitted to Tohoku University's Tohoku Medical Megabank Organisation. Toshiba maintains one of the largest quantum IP portfolios in the world.
In February 2018, Toshiba unveiled a 13.7 Mbps quantum key distribution device — several times faster than the previous fastest QKD device, also developed by Toshiba, which had a speed of 1.9 Mbps.
In 2019, Toshiba announced a partnership with Quantum Xchange, an American developer, to double the capacity of Phio, its quantum key distribution optical network. Currently, the Phio project is active for a selection of banks and asset management firms in New York City, helping customers move data and maintain security.
GET the 27-page quantum computing report
Download the free report to learn about the the quantum computing industry landscape and how close we are to quantum supremacy.
If you aren't already a client, sign up for a free trial to learn more about our platform.